IOS
Video Editor Videorama - FX and Music Movie Maker app download
Video Editor Videorama - FX and Music Movie Maker
Video Editor Videorama - FX and Music Movie Maker app description
We are proud to present you the most advanced, yet easy to use, video editor on the App Store!
Videorama lets you make amazing movies out of your photos and videos. You will feel like a pro in minutes!
Features:
A POWERFUL CLIP EDITOR
- Combine your photos and videos together. Trim, re-scale, give color backgrounds and more!
- Turn your still images into videos or make slideshows.
- Add transition effects between your clips
- Speed up / slow down your videos any way you like
- Unlimited movie lengths. No restrictions. Make a movie as long as you like.
FAST, REAL-TIME PREVIEWS - SUPER CRISP FULL HD OUTPUT
- Preview your work, apply effects in real time, no waiting, no loading, nothing!
- Different canvas and resolution options: Up to 1080p FULL HD resolution!
ADD and ANIMATE TEXT
- Add text layers over your videos and animate them
- More than 50 professional fonts and colors
- Easily subtitle your videos
ADD SPECIAL FX
- Explosions, tornadoes, light effects, glitches, magic spells... Enrich your videos by adding fun special effects and video overlays.
- It's like having a mini Hollywood film studio in your pocket!
ADD MUSIC & SOUND EFFECTS
- Hundreds of fun sound effects to spice up your video
- Either select from a list of cinematic music themed for different occasions or add your own music from your library, adjust when it will begin & end
APPLY CINEMATIC FILTERS, OVERLAYS and ADJUSTMENT TOOLS
- Apply professional photo filters and overlays to your movie.
- Juice it up by adjusting brightness, contrast, exposure, saturation and many more tools.
OVERLAY IMAGES & VECTOR ARTWORK to your VIDEOS
- Overlay any image from your photo gallery or make a stock photo / artwork search and place it on your videos. This is also super useful if you want to watermark your videos with your company / brand logo.
SEARCH & MIX IN 100% FREE STOCK VIDEOS TO YOUR MOVIES
- We've partnered up Pixabay, the world's biggest, totally free stock image and video search engine. You can search their library right inside Videorama and import anything into your movie to mix with your own video and image clips.
NEVER LOSE YOUR WORK & CONTINUE WHERE LEFT OFF
- Your projects get auto-saved as you work on them, you never lose your previous work.
- Want to continue later on? No problems. Save it up and continue whenever you have time.
EASILY SHARE ON SOCIAL NETWORKS & SEND TO FRIENDS
- Planning to be the next Vine celebrity?
- Want to create beautiful movies out of your family videos and photos?
- Want to prank your friends by adding fun sounds and video effects to your shootings?
- Need an easy to use yet powerful tool to promote your brand on social media with videos you make?
This app is what you need!
We are excited to see what you'll be making with Videorama! Follow us on Instagram and Twitter at @VideoramaApp to get tips, tricks and daily inspiration.
Screenshots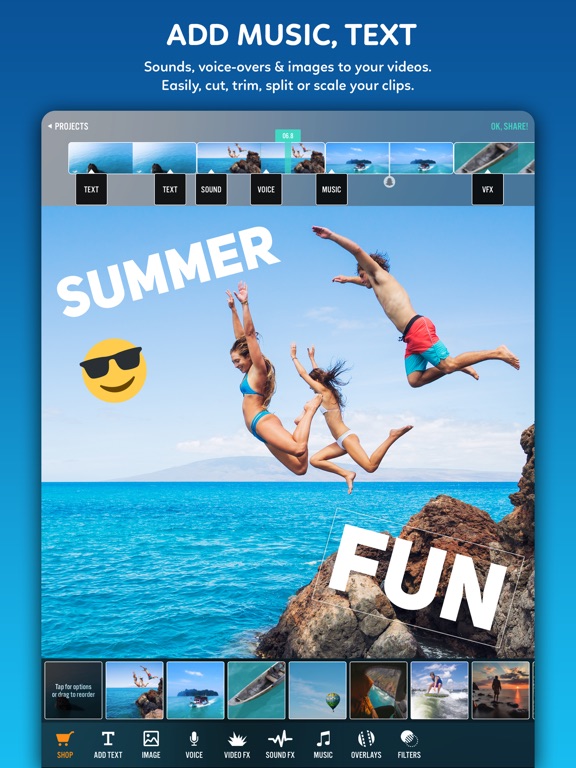 Video Editor Videorama - FX and Music Movie Maker app review
based on 12 Thousand reviews
promoted apps
see also