IOS
PicBeauty | Enjoy your funny life! app download
PicBeauty | Enjoy your funny life!
PicBeauty | Enjoy your funny life! app description
*****Limited time for free ($2.99 -> $0)*****
*****1 million downloads in 20 days *********
*****Climb top in 27 countries **************
Follow PicBeauty on twitter @PicBeautify
or Like PicBeauty on facebook to communicate with us!.
*****PicBeauty, make life more beautiful!*****
You wanna be more pretty ?
R you worried about your facial wrinkles, pimples?
Do you want to customize natural and elegant photo for facebook, or other social sites?
PicBeauty brings your wishes to reality!!!
PicBeauty is a facial photo editing app, which is a brother App of PicFrame+ and PicFun. It can help you weaken pimples and wrinkles by using "Smooth" option, whiten face skin and teeth obviously by using "Whiten" option.
Easy beauty, easy share, easy life!
* "Whiten" option to whiten teeth and skin
* "Smooth" option to weaken wrinkles and pimples
* "Compare" option to view beautification effect conveniently
* Smooth UI and operation
* Quick share to Facebook or send via iMessage
Screenshots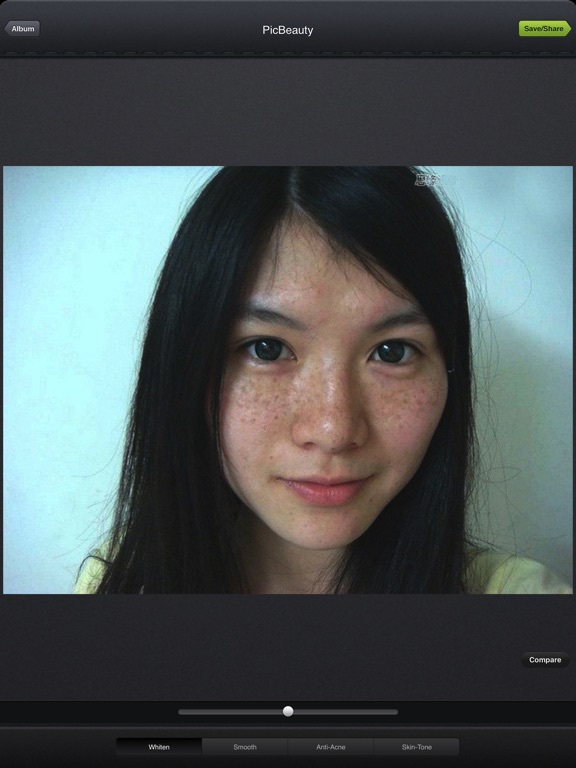 PicBeauty | Enjoy your funny life! app review
based on 598 reviews
promoted apps
see also