IOS
My Pet Can Talk - Make your dog, cat or other pets talking like talking tom, ginger, angela or ben FREE app download
My Pet Can Talk - Make your dog, cat or other pets talking like talking tom, ginger, angela or ben FREE
My Pet Can Talk - Make your dog, cat or other pets talking like talking tom, ginger, angela or ben FREE app description
Make your pet talking to you with its' photo!
Have you ever thought about what would your pet say if it can speak human language? this app may kind of help you with this imagination.
Adding a photo of your pet, adjust a few marks ,then speak into microphone, and your pet can realistically repeat what you just said.
FEATURES:
◆ Add a photo and speak into microphone, you'll get a lively talking pet in video.
◆ Change the voice pitch from low to high.
◆ Save the video and share it on Facebook or Twitter or other SNS app.
◆ Email it as a special greeting to your friends and family.
◆ Try to make some other things speak, it will be creative and fun.
CHARGING FEATURES
◆ 10 funny animate emoticons you can add on their faces, such as angry, crying, awkward and so on.
◆ Transfer different scene for video, make your talking pet more like a story or a e-card.
Follow us on twitter or facebook to get more creative and funny thoughts.
Facebook:https://www.facebook.com/mypetcantalk
Twitter:https://twitter.com/my_pet_can_talk
If you have any suggestion or problem, don't use the appstore feedback space as it's impossible for us to answer there.
Send us your feedback via: setting page→ feedback.
Or leave a message on our facebook or twitter, we'd be glad to hear from you :)
Screenshots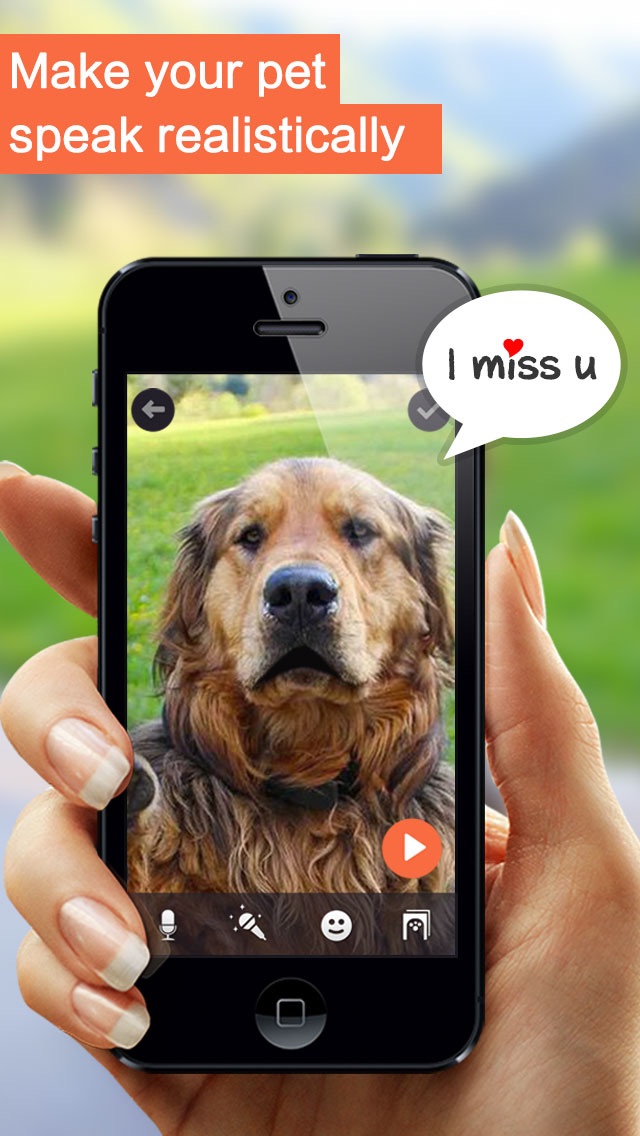 My Pet Can Talk - Make your dog, cat or other pets talking like talking tom, ginger, angela or ben FREE app review
based on 3.75 Thousand reviews
promoted apps
see also