IOS
MW2 Ultimate Utility lite - K/D Improver for Modern Warfare 2 app download
MW2 Ultimate Utility lite - K/D Improver for Modern Warfare 2
MW2 Ultimate Utility lite - K/D Improver for Modern Warfare 2 app description
Ever wonder how many more kills you need to make your K/D ratio move up? Never wonder again with MW2 UU lite!
** BONUS: ** 10% off KontrolFreek products when you download this app. (Promotional code inside)
** BONUS: ** Link to a sign up page for BringIt - a web site where you can earn real money for winning Xbox and PS3 tournaments. (Details inside app)
FOR MORE GREAT FEATURES:
Be sure to check out MW2 UU original and MW2 UU Pro!
==> For info about upcoming updates & new apps before they are available in the app store, follow me on Twitter:
Twitter.com/BrassMonkeigh
*********************************************
Since 2010, Brass Monkeigh Apps have consistently been the highest rated and most downloaded gaming strategy guides in the AppStore. This app is an unofficial guide and is not sponsored or endorsed by the publisher of any game. Brass Monkeigh Apps, LLC is not affiliated with Activision, Inc. Call of Duty is a trademark of Activision, Inc.
For more information about Brass Monkeigh Apps, check out:
www.youtube.com/BrassMonkeigh
www.facebook.com/BrassMonkeigh
www.twitter.com/BrassMonkeigh
www.BrassMonkeighApps.com
Screenshots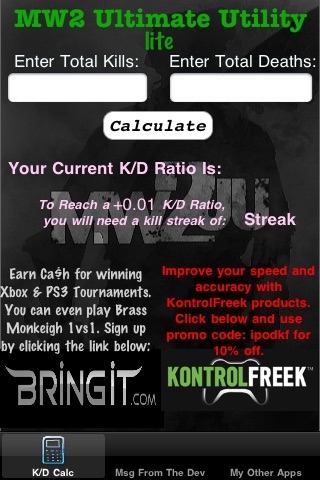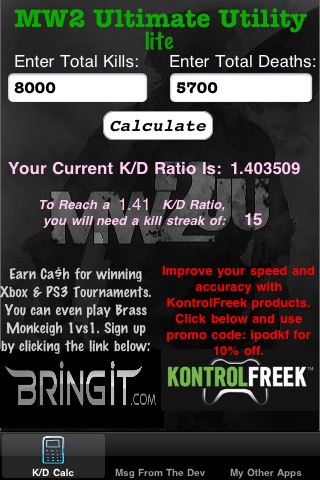 MW2 Ultimate Utility lite - K/D Improver for Modern Warfare 2 app review
based on 7.84 Thousand reviews
promoted apps
see also