IOS
IMO Terminology Browser app download
IMO Terminology Browser app description
The IMO® Terminology Browser provides clinical users a way to capture and code diagnoses or procedures without altering the language they would normally use. It speeds up the coding process, reduces unnecessary physician-coder communication, and results in fewer rejected claims. More information is available at www.e-imo.com
This app is free to download; you will be able to search both IMO® Problem (IT) diagnosis and IMO® Procedure(IT) procedure databases, and IMO® Problem (IT) diagnosis terms will include all relevant ICD-9-CM information.
The subscription version of this app supports the following billable codes:
* ICD-9-CM
* ICD-10 (CM, CA, WHO)
* SNOMED CT®
* MeSH
* UMLS
* HCPCS
* ICD-9-CM Procedure Vol. III
* CPT® codes (coming soon!)
IMO® Problem (IT) naturally provides clinicians the language necessary to capture their care intent in clinical terms, while also providing the best billable ICD-9-CM and ICD-10-CM codes. IMO® Problem (IT) solves the complication of forcing clinicians to remember and use the often awkward and cumbersome billing dictionaries of ICD-9-CM or ICD-10-CM coding language when documenting in clinical situations.
In a similar fashion, IMO® Procedure (IT) provides resolution in capturing the clinical intent for procedure orders from health care providers, and in return provides standard code set maps; HCPCS, ICD-9-CM Volume 3 Procedures, and SNOMED CT® codes.
All content is kept current though monthly releases; following editorial guidelines we also accept user input to improve our content.
The IMO® Terminology Browser digital subscription is $119.99 per year. Payment will be charged to your iTunes Account at confirmation of purchase.

***IMPORTANT***
Please sign into an iCloud account before purchasing a subscription. Purchasing a subscription without being signed into an iCloud account will prevent the ability to restore the subscription if this application is deleted and/or reinstalled. It will also prevent the subscription from working on multiple devices. Please do not purchase the subscription without signing into an iCloud account.
IMO is a registered trademark of Intelligent Medical Objects, Inc. All Rights reserved.

iTunes® is a trademark of Apple, Inc.

CPT is a registered trademark of the American Medical Association. All rights reserved.
SNOMED CT is a registered trademark of the International Health Terminology Standards Development Organization. All Rights reserved.
Screenshots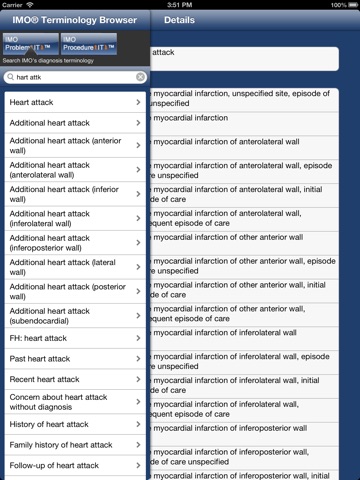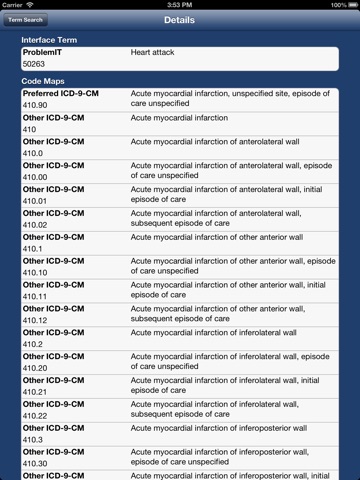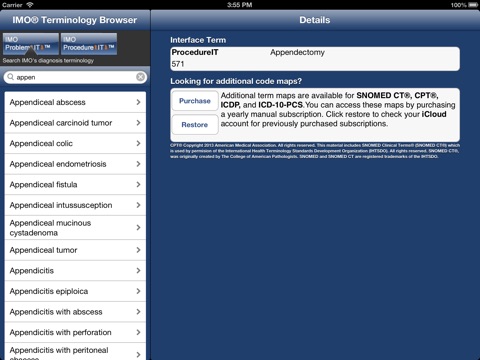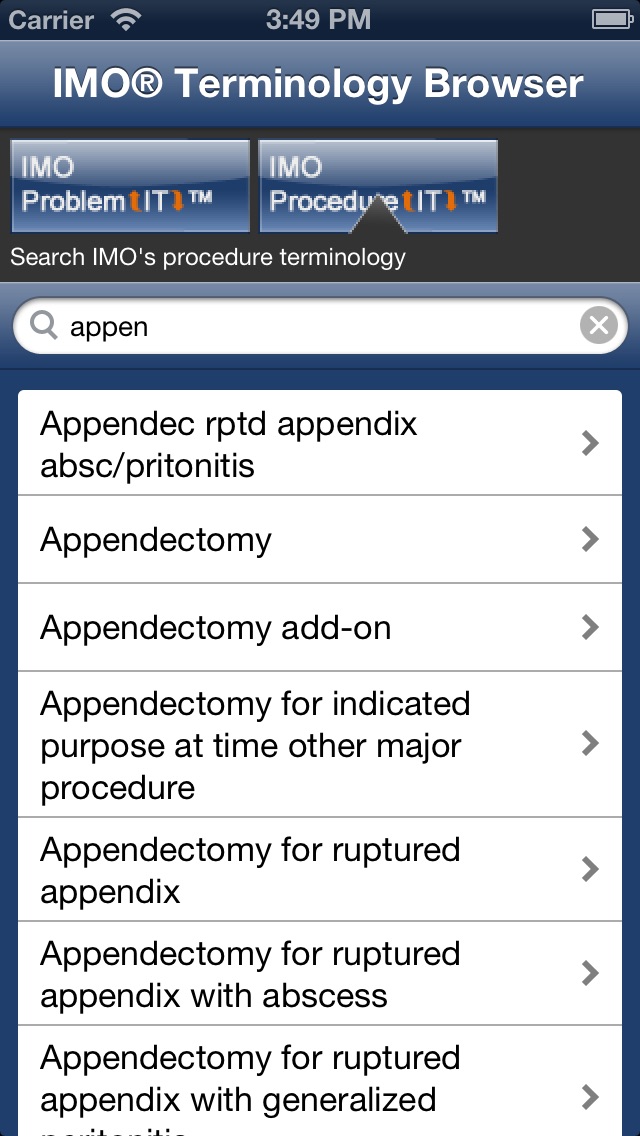 Highligths
Keep in mind
Nothing to show here, perhaps users had nothing negative to share about IMO Terminology Browser app
IMO Terminology Browser app review
based on 17 reviews
promoted apps
see also