IOS
iDragPaper Friends app download
iDragPaper Friends app description
Over 11 Million people have played iDragPaper!
★#1 Top Free Apps in US,UK,Deutschland,Canada,France,Italy,Sweden,Japan,HongKong★
Have you ever had the impulse to drag the whole roll of toilet paper at one go?
Now you can realize your evil idea just in iDragPaper!
iTunes Reviews:
"This is the best game in history. I could not have liked a better game than this one."
"An amazing game that is so simple but fun. A must buy that is great to play with your family"
"It is a Perfect idiot's game."
"This is a stupid pointless game."
Someone like it, someone hate it. To make your choice, download and play!
So, what is it?
Tap "Play" to start the game.
Swipe the screen to drag the toilet paper.
Drag the paper as fast as you can and possibly you are in the top ten.
Take the challenge now and have fun!
New features:
- Challenge your facebook friends!
- Customize the look of your game. You can change the paper patterns and backgrounds in iTheme.
- A lot of cool themes are in the shop, you can buy them with Cocos(virtual currency in the game).
Please support our new game "One Tap Hero Free", an award-winning cute puzzle platformmer!
Search "One Tap Hero" in App Store
Screenshots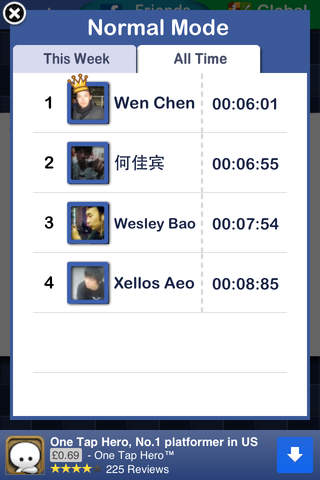 iDragPaper Friends app review
based on 176 Thousand reviews
promoted apps
see also