IOS
Hulu: Watch latest episodes of your favorite hit TV Shows, stream kids movies & comedy films app download
Hulu: Watch latest episodes of your favorite hit TV Shows, stream kids movies & comedy films
Hulu: Watch latest episodes of your favorite hit TV Shows, stream kids movies & comedy films app description
Hulu brings you instant access to all of your favorite shows, the hottest new series and great films, all in one place. Watch premium original series, full seasons of hit shows, current episodes, movies, kids shows, cartoons & more. Hulu has an amazing library of content including shows in HD from FOX, NBC, Disney, ABC, CBS, Comedy Central, Cartoon Network, PBS, FX, MTV & many more.
Hulu gives you the latest episodes of popular shows currently running, including Empire, Once Upon A Time, Grey's Anatomy, Scandal, How To Get Away With Murder and past seasons of hit shows like Seinfeld, South Park & Parks and Recreation. There are also great hit movies to watch & stream on Hulu – from thrillers to cartoons to comedy – Interstellar, Teenage Mutant Ninja Turtles, The Hunger Games and many more. The entire family can enjoy hit shows from ABC, FOX and CBS, great films & cartoons, many in HD, with Hulu you can start enjoying the cool world of streaming entertainment.
Watch your shows and movies without interruption, stream everything you love with our No Commercials plan. Watch past seasons of classic TV shows & the most recent episodes of top network shows – all VOD. You can also add SHOWTIME® directly through Hulu to enjoy popular series and movies.
Features:
• Catch the latest HD episodes of shows from ABC, FOX and CBS like Empire, Grey's Anatomy, Once Upon A Time, The Last Man on Earth & Blindspot. Watch premium original series like The Path, 11.22.63, The Mindy Project, Casual, East Los High, Difficult People & many more.
• Enjoy previous seasons of cool shows like Seinfeld, CSI: Crime Scene Investigation, Law & Order: SVU – all on demand.
• Stream popular kids films, cartoons and programs including Curious George, Adventure Time, Doc McStuffins, SpongeBob SquarePants, and classics such as Doug & Rugrats. Watch great kids shows from Cartoon Network, Disney, Disney XD, Nickelodeon and other great kids TV networks.
• Keep your family safe, give your children all the Disney cartoons and CN fun they want but set Kids Lock on your device so your kids are restricted to the Kids hub.
Please contact mobilesupport@hulu.com, if you are experiencing any issues.
Terms of Use: http://www.hulu.com/terms
Privacy Policy: http://www.hulu.com/privacy
This app features third party software which enables third parties to calculate measurement statistics (e.g., Nielsen's TV Ratings). To learn more, please visit our privacy policy.
We may work with mobile advertising companies to help deliver online and in-app advertisements tailored to your interests based on your activities on our website and apps and on other, unaffiliated website and apps. To learn more about this, visit www.aboutads.info. To opt-out of online interest-based advertising, visit www.aboutads.info/choices. To opt-out of cross-app advertising, you may download the App Choices app at www.aboutads.info/appchoices. We are committed to complying with the DAA's Self-Regulatory Principles for Online Behavioral Advertising & the DAA's Application of Self-Regulatory Principles for the Mobile Environment.
Screenshots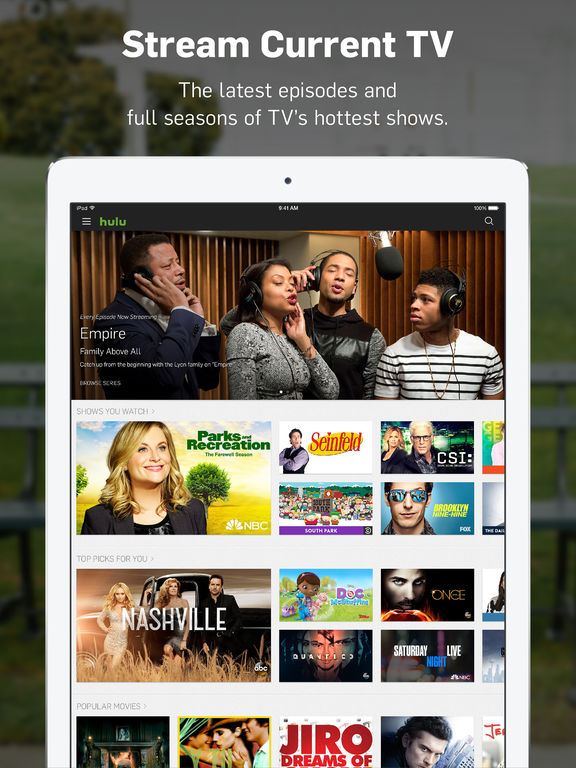 Hulu: Watch latest episodes of your favorite hit TV Shows, stream kids movies & comedy films app review
based on 53.7 Thousand reviews
promoted apps
see also