IOS
Get Followers for Instagram, More Real Likes app download
Get Followers for Instagram, More Real Likes
Get Followers for Instagram, More Real Likes app description
More Followers is the speediest way to get tons of real followers on Instagram, and it's free!
- All the followers are genuine and active, no bots, no fake accounts, your popularity is real!
- REAL Unfollow Protection, unlike other similar apps, if someone unfollows you, our Coin Refund System will activate and fill that spot immediately. And it's a lifelong guarantee!
- Lots of options to get Free Coins: Daily Free Coins, Level Up Bonus, and more!
How does it work?
Step 1: Earn coins by following interesting people.
Step 2: Automatically, coins will be exchanged for followers, be Insta-Famous like a boss!
What our users say?
"It does exactly what it says. I'm glad that I took the time to find this app, absolutely miraculous!"
"500+followers per day, plus they are not just people but those interested in cooking, sports, arts and crafts. Thanks again!!!"

Download now, and welcome to Instagram million followers club.
Screenshots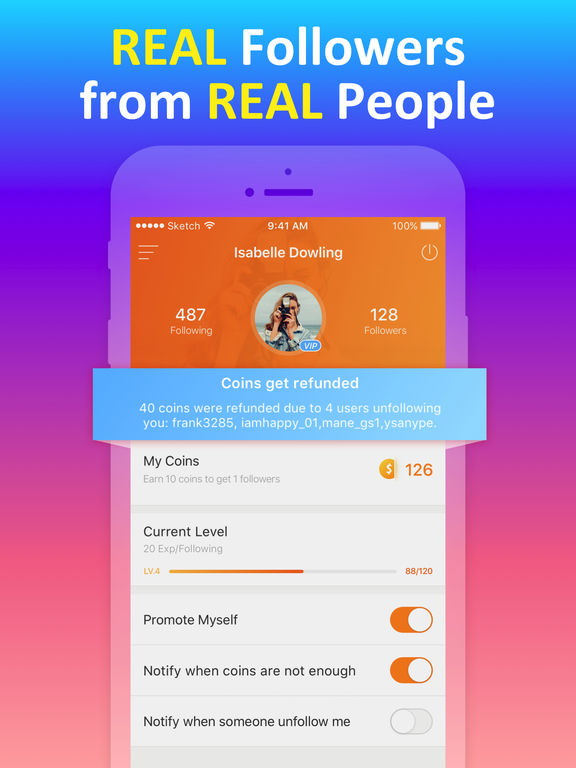 Get Followers for Instagram, More Real Likes app review
based on 31.9 Thousand reviews
promoted apps
see also