ANDROID
Udemy Online Courses app download
Udemy Online Courses app description
Your place to learn real world skills online.
With over 32,000 online courses and tutorials, you can learn anything on Udemy.
DISCOVER AMAZING COURSES
Choose from over 25,000 courses, on anything from programming and business, to yoga and photography.
LEARN ONLINE. ANYWHERE. ANYTIME.
Trusted by some of the worlds top companies like Pepsi and Century21, Udemy Students can enroll and take courses with a computer or mobile device. Each course is on-demand, and includes lifetime access with no expirations.
MASTER SKILLS. ACHIEVE YOUR GOALS.
Remember that skill you've always wanted to learn? Whether it's personal or professional, Udemy has you covered and will get you learning in no-time.
Courses are offered in more than 80 languages and range from free and short tutorials, to complete master courses. Choose from a wide range of topics to inspire creativity, hone your skills, be your own boss, and more:
COURSES AVAILABLE IN:
Programming, Development, IT & Software
Business, Marketing & Entrepreneurship
Office and Creative Software
Personal Development, Health and Fitness
Design, Photography & Music
Languages
ALL COURSES INCLUDE:
Money-Back Guarantee
Lifetime access with no monthly fees
Certificate of Completion
Ability to download course lectures for offline viewing
Syncing across multiple devices
Private messaging with instructions for personal feedback
Some of the world's most respected companies trust Udemy to train their employees. Some of our favorite customers include: Lyft, Oracle, Pepsi, Century 21, Universal, Pitney Bowes, and 1-800-Flowers.
Go ahead and take control. Learn whatever you want, whenever and wherever you want.

WHAT THEY'RE SAYING ABOUT UDEMY:
Android Authority
"A must-have application for people who are looking to learn more things."
TechCrunch
"With its new app, Udemy now allows users to browse and sign up for both free and paid courses, giving them access to video lectures, articles and presentations while on the go."
VentureBeat
"Enabling students to enhance their skills and education while on the bus, or while waiting at the doctor's office, makes education even more accessible."

VISIT US: http://www.udemy.com
LIKE US: http://www.facebook.com/udemy
FOLLOW US: http://www.twitter.com/udemy
**By downloading the app you agree to our Terms of Service and Privacy Policy. **
Screenshots
IOS
Udemy Online Courses app download
Udemy Online Courses app description
Udemy is a global marketplace for learning and teaching online where more than 11 million students are mastering new skills and achieving their goals from over 40,000 courses taught by expert instructors. Whether you're looking to advance your career or explore a new hobby, it's all in one place.
LEARN ANYTHING
* Discover courses in 1200+ topics - from Web Development to Photography, Data Analysis to Yoga
* From short tutorials to comprehensive courses, learn new skills at beginner, intermediate, and advanced levels
LEARN ANYWHERE
* Watch courses on the app, Udemy.com, and Apple TV
* Download courses to learn offline - make long flights and commutes productive, no internet connection needed
* Listen to courses in audio-only mode when you're on the go
LEARN AT YOUR OWN PACE
* Ask questions to other students and the instructor and receive a response - fast
* Personalize your learning experience with speed controls
* On demand, lifetime access to courses that sync with Udemy.com
Free and Premium Courses available in:
* Computer Programming including Java, Swift, Python, Ruby on Rails, and JavaScript
* Web Development including HTML, CSS
* IT & Software
* Data Science
* Business and Finance
* Design
* Marketing
* Entrepreneurship
* Office Productivity including Microsoft Excel™
* Health and Fitness
* Photography
* Music
* Languages
* and more…
"Udemy's iOS app turns your phone into a 24-hour classroom" - Venture Beat
We love feedback. Email us at support@udemy.com.
Screenshots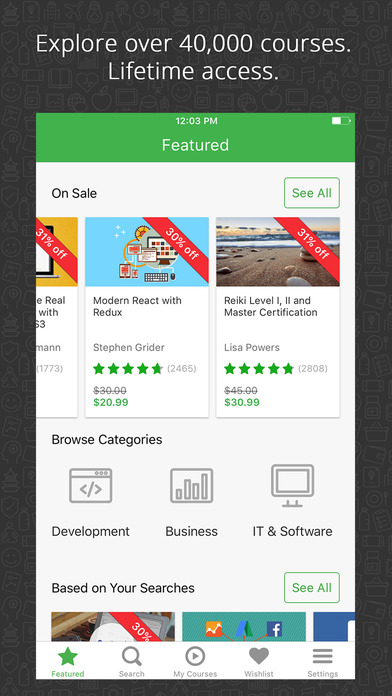 Udemy Online Courses app review
based on 55.3 Thousand reviews
promoted apps
see also