IOS
NOOK - Read Books, Magazines, Newspapers & Comics app download
NOOK - Read Books, Magazines, Newspapers & Comics
NOOK - Read Books, Magazines, Newspapers & Comics app description
NOOK free book reading app for your iPad, iPhone and iPod touch! This free reader app has a library of over 4 million free best-selling eBooks, magazines, comics, and kids' books in every genre including fiction, romance, business, sci-fi, mystery, and more - including 1 million FREE titles. . Sample NOOK books FREE and try any newspaper or magazine FREE for 14 days.*
Shop the NOOK Store and find titles tailored to your interests with ultra-personalized recommendations we know you'll love. Then, enjoy an amazing, highly optimized reading experience with your NOOK app™ wherever you go. Start reading on one device and continue on another.
NOOK - the top-rated app for readers
"One of the best reading apps" – Gizmodo
FEATURES:
• NEW: B&N Readouts: Daily streams of FREE quick reads—two-minute book excerpts and magazine articles—customizable by interest and designed for iPhone reading. Share on social, email, and other apps.
• Massive selection of over 4 million books, magazines, newspapers, comics, and kids books - most $9.99 or less.
• Adjustable font sizes and styles, line spacing, margins, and screen brightness for more comfortable reading. Select Night Mode for easier bedtime reading.
• Syncs your last page, bookmarks, and notes so you can pick up where you left off.
• Read NOOK Books™ on your NOOK® HD, NOOK® HD+, NOOK Tablet™, NOOK Color™, NOOK Simple Touch™, NOOK Simple Touch™ with GlowLight™, PC, Mac, Android-based devices and Windows 8-based devices.
• Explore the App: Test drive the app even before you sign in, includes three free books and three free magazine issues
• My Shelves: Organize your library as you wish by creating stacks of eBooks, magazines and your own files
• Sample Search: Search our eBook catalog and read free samples.
• Search inside the book and look up words with the downloadable in-app dictionary.
• Add notes, bookmarks and highlights as you read.
• Customize background and text colors. Use themes or create your own.
• Read in portrait or landscape mode.
• Easily transfer EPUB and PDF files.
• Language support for British English, French, Italian, German, and Spanish.
• Accessible to blind and low vision users leveraging Apple assistive technology, including screen magnification and VoiceOver.
• Shop for books, magazines & newspapers and manage your account by visiting the NOOK Store.
BESTSELLING BOOKS INCLUDE:
• Romance: Grey: Fifty Shades of Grey, Earth Bound, The Liar, A New Hope, Ever After
• Fiction: Go Set a Watchman, Truth or Die, The Rumor, In the Unlikely Event, Country, Gone Girl
• Mystery: Nemesis (FBI Series #19), 14th Deadly Sin, Dark Places, Wicked Charms, The Girl on the Train
• Books for Teens: Paper Towns, Divergent, Maze Runner, The Heir, Red Queen, Cinder
• Books for Young Readers: Wimpy Kid, Magnus Chase, Wings of Fire, Charlotte's Web, Frozen, Magic Tree House
• Science-Fiction & Fantasy: The Martian, Queen of Fire, Armada, A Game of Thrones
BESTSELLING AUTHORS INCLUDE:
• James Patterson
• Gillian Flynn
• Janet Evanovich
• Harper Lee
• Kiera Cass
• Rick Riordan
• Nora Roberts
• Stephen King
BESTSELLING MAGAZINES INCLUDE:
• OK! Magazine, Star
• Cosmopolitan
• Us Weekly
• National Geographic
• Food Network Magazine
• Weight Watchers Magazine
BESTSELLING NEWSPAPERS INCLUDE:
• USA Today
• The Washington Post
• The Onion
• New York Daily News
• Los Angeles Times
• 200+ college newspapers
BESTSELLING NOOK COMICS INCLUDE:
• DC: Batman, Superman, Sandman, Watchmen
• Image: The Walking Dead, Chew, Invincible
• Marvel: Invincible Iron Man, World War Hulk, Astonishing X-Men, Ultimate Spider-Man
• Dark Horse Comics: Hellboy, B.P.R.D., Conan, Frank Miller's Sin City, Star Wars
• Archie Comics: Life With Archie, Betty & Veronica, Kevin Keller
• Dynamite Entertainment: Vampirella, Dean Koontz's Frankenstein, Green Hornet
Selection shown above for U.S. users only; selection and price of content may vary by country
* NOOK account and credit card registration required.
Screenshots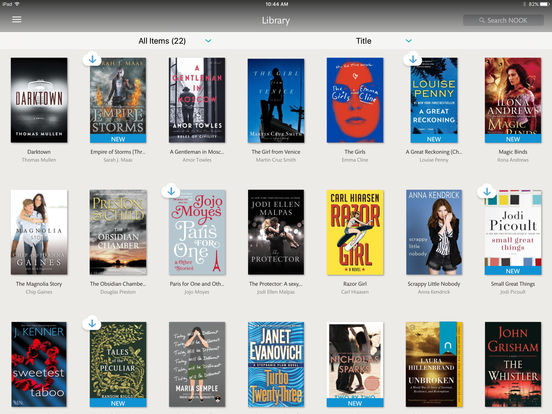 NOOK - Read Books, Magazines, Newspapers & Comics app review
based on 54.5 Thousand reviews
promoted apps
see also