ANDROID
Indiegogo app download
Indiegogo app description
Discover new campaigns or keep track of your favorites—anytime, anywhere. Whether you're interested in the latest wearable devices, new up-and-coming gadgets, or independent films, it's easier than ever to explore and support your favorite Indiegogo campaigns.
• Discover new campaigns through personalized recommendations
• Follow your favorite campaigns
• Explore campaign perks
• Share campaigns with friends
For Campaigners:
- Get notified each time you receive a contribution and comment
- Manage comments
- Send custom messages to contacts and Facebook friends
- Promote your campaign on social networks
If you have any questions, feel free to contact us at support@indiegogo.com.
Screenshots
IOS
Indiegogo app download
Indiegogo app description
Discover and fund products, projects and causes you love on Indiegogo. Whether you're interested in next-gen gadgets, indie films or saving kittens, you can now keep tabs on your favorite Indiegogo campaigns anytime, anywhere.
Support a campaign:
- Discover recommended campaigns
- Explore and follow campaign categories
- Claim campaign perks - everything from cool new devices to walk-on movie roles, custom art and more
- Share your favorite campaigns with friends
Run your own campaign:
- Get notified each time you receive a contribution
- Manage comments
- Post campaign updates, including photos, on the go
- View campaign contributors and send them thank you notes
- Send custom messages to contacts and Facebook friends
- Promote your campaign on social networks
Screenshots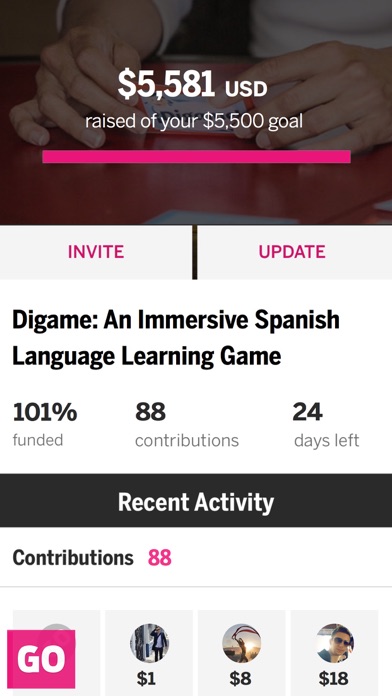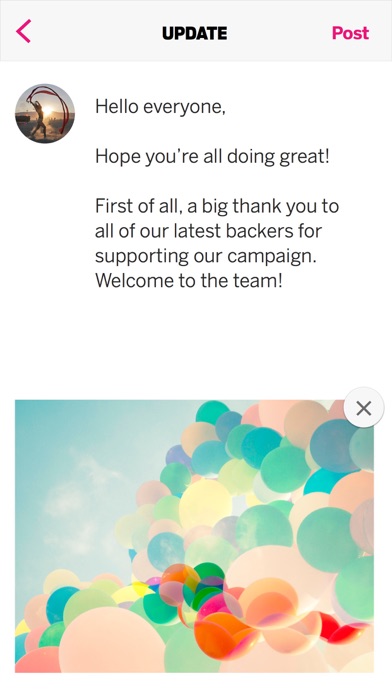 Indiegogo app review
based on 3.8 Thousand reviews
promoted apps
see also