IOS
eBay: Buy & Sell Electronics, Fashion and More app download
eBay: Buy & Sell Electronics, Fashion and More
eBay: Buy & Sell Electronics, Fashion and More app description
The eBay app makes it easy to shop, search, buy, and sell. Manage your eBay experience whenever and wherever you are!
With the eBay app you can:
• Search the best deals on millions of items.
• Get the things you love for the right price. Everything is here, from clothes to electronics to cars.
• Find deals on new items or purchase in bulk straight from the source.
• Buy your favorite items from our trusted seller and save money.
• Bid & buy on auctions to get incredible discounts on the products you love.
• Choose Buy It Now to get the items you need instantly.
• Follow your favorite searches and sellers for quick access to the latest inventory.
List your items for sale in minutes:
• List your used, new or duplicate items and start making extra money.
• See when customers view, bid, watch and message about your items.
Track orders and get notifications:
• Get customizable alerts about your eBay items and activity.
• Track your packages.
• Leave feedback for sellers.
• Read and respond to eBay messages.
• Report missing or un-shipped items.
Use the barcode scanner to search and sell stuff faster:
• Scan items to search eBay for deals.
• Auto-create a listing with a simple scan to speed up the selling process.
• Users scanning items will be able to find your listings faster than ever.
Shop and sell in categories like:
• Clothes & Fashion
• Electronics & Gadgets
• Cars & Motorcycles
• Home & Garden
• Collectibles & Art
• …and much more
eBay gets you top prices on the items you love, and the best value for the things you want to sell. Whether you shop or sell, eBay's mobile app does it all. We'll stop here so you can start shopping now.
Download the eBay app and start your search today!
_____________________________________
KEEP IN TOUCH
Thanks to all our loyal fans for your support and suggestions! Your feedback is important to us. Please contact us with any questions by tweeting @askebay or join the discussion at www.ebay.com/iOS
Screenshots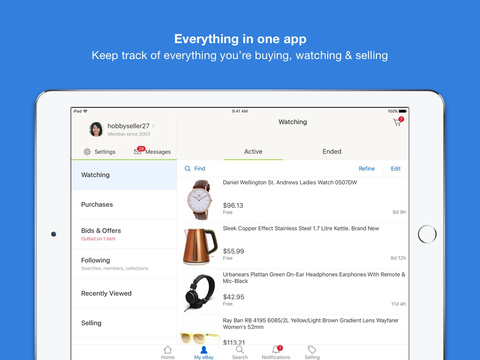 Highligths
Keep in mind
Nothing to show here, perhaps users had nothing negative to share about eBay app
eBay: Buy & Sell Electronics, Fashion and More app review
based on 248 Thousand reviews
promoted apps
see also