ANDROID
Dragon Mania Legends app download
Dragon Mania Legends app description
Breathe life into your dragons and prepare them for legendary battles! Reclaim your beloved homeland by rebuilding Dragolandia, breeding cute baby hatchlings, and raising them into powerful warriors to fight off the Vikings. There are over 200 species of unique and highly detailed dragons to discover as you become the ultimate Dragon Lord in the most interactive and beautiful dragon breeding and battling game!
THE BIRTH OF A LEGENDARY WARRIOR
- Build a variety of habitats on your own Dragon Island
- Have your most powerful dragons breed to make strong hatchlings
- Feed, cuddle and train your baby dragons in an interactive experience
- Collect and discover all kinds of different dragons!
FIGHT TOOTH & CLAW
- Master a never-before-seen, engaging and dynamic 3-on-3 battle system
- Unleash Dragon Fury and thrash your way to victory!
- Teach your dragons special skills
EXPLORE FOR GLORY
- Choose your own path and explore a vast world with over 100 points of interest

FRIENDS & RIVALS
- Visit and send gifts to other players around Dragolandia
- Face off against other players in the Arena and win exclusive prizes!
_____________________________________________
This app allows you to purchase virtual items within the app and may contain third-party advertisements that may redirect you to a third-party site.
_____________________________________________
Visit our official site at http://www.gameloft.com
Follow us on Twitter at http://glft.co/GameloftonTwitter or like us on Facebook at http://facebook.com/Gameloft to get more info about all our upcoming titles.
Discover our blog at http://glft.co/Gameloft_Official_Blog for the inside scoop on everything Gameloft.
Privacy Policy : http://www.gameloft.com/privacy-notice/
Terms of Use : http://www.gameloft.com/conditions/
End User License Agreement : http://www.gameloft.com/eula/
Screenshots
IOS
Dragon Mania Legends app download
Dragon Mania Legends app description
"Dragon Mania Legends is for anyone that wants their very own pet dragon, which is obviously everyone…" – Gamezebo
Hundreds of dragons are waiting for you to build them a home, take care of them and help them grow from cute little hatchlings into powerful warriors.
WELCOME TO DRAGOLANDIA
- Dragons have never looked this good! Eye-popping visuals make the diverse islands and inhabitants of Dragolandia come to life.
- Your pets appreciate attention; feed them, cuddle them and care for them to receive extra gold and special bonuses.
- Never run out of cute, scaly friends with more than 350 unique species you can breed and add to your dragon collection.
ALWAYS A NEW ADVENTURE
- Take your dragons on a journey across the land! Reach higher and higher leagues as your collection and skills improve with each new battle!
- Seasonal events and special quests are added with each update, so you never run out of things to do.
- Show 'em who's boss! Take on your opponents in the Arena to collect awesome prizes!
THE POWER OF CLANS
- Make friends, visit their islands and exchange gifts.
- Be the Clan with a Plan! Use the Clan Chat to devise group strategy, or just discuss what you've been up to.
_____________________________________________
Visit our official site at http://www.gameloft.com
Follow us on Twitter at https://twitter.com/gameloft or like us on Facebook at http://facebook.com/Gameloft to get more info about all our upcoming titles.
Check out our videos and game trailers on http://www.youtube.com/Gameloft
Discover our blog at http://blog.gameloft.com/ for the inside scoop on everything Gameloft.
_____________________________________________
This app allows you to purchase virtual items within the app and may contain third-party advertisements that may redirect you to a third-party site.
Privacy Policy: http://www.gameloft.com/privacy-notice/
Terms of Use: http://www.gameloft.com/conditions/
End-User License Agreement: http://www.gameloft.com/eula/
Screenshots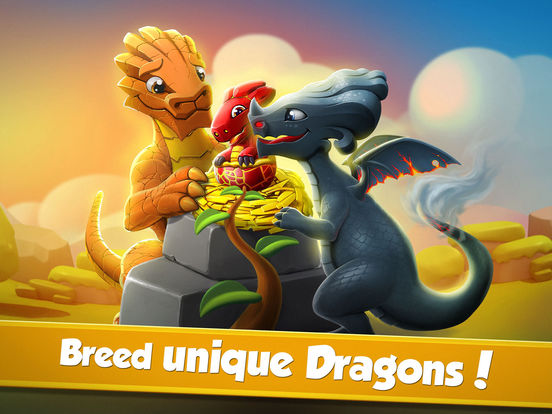 Dragon Mania Legends app review
based on 1.03 Million reviews
promoted apps
see also