IOS
Cross DJ Pro - Mix your music app download
Cross DJ Pro - Mix your music
Cross DJ Pro - Mix your music app description
BLACK FRIDAY: 60% DISCOUNT - LIMITED TIME ONLY
The best pro DJ app on iPad & iPhone, downloaded by millions worldwide. Mix tracks in perfect sync on a powerful audio engine. Engineered & designed by Mixvibes, digital DJing pioneer for 15 years.
FULL VERSION, ALL FX - NO ADDITIONAL PURCHASES, NO POP-UPS
***Due to copyright reasons, recording mixes with streamed tracks from SoundCloud is not possible.
"Loved the sleek interface & functionality" - Digital DJ Tips
"Killer keylock" - DJ WORX
"A full-featured quality mixing app" - About.com
"Clean, simple & professional look & feel" - Best-dj-software.com
/// MIX IN PERFECT SYNC
• Accurate BPM detection of your music, down to the last decimal
• Stable sync: one-press & the 2 tracks never go out of phase
• Quantize mode: hot cues & loops are automatically set on the beat
• Ableton Link: jam in sync with other Link-compatible apps (Remixlive, another Cross DJ Pro, Ableton Live, etc.).
• Inter-App Audio (node) & Audiobus (input master): send Cross DJ Pro's audio to other compatible apps.
• Customizable, manual pitch range (4 to 100%). Progressive, manual pitch bend.
• Waveform view: parallel waveforms for pitch-bending
• Accurate beat-grid editing: make any track sync properly (iPad only)
• Split audio: pre-listen tracks in your headphones before mixing them
• Automix: Cross DJ mixes your tracks & play music automatically, from any sources (playlist, album, etc.)
/// OUTSTANDING AUDIO PERFORMANCE
• Realistic scratch sound - as on real turntables
• Audio FX: Hi & Low-Pass, Echo, Delay, Flanger, Chopper, Roll, Phaser, Brake & much more
• Loops (16 to 1/32), slip loops, 16 large hot-cues pads
• Sampler: 72 samples, synced to the main player
• Record your mix & share it to SoundCloud, Facebook & Twitter
• Keylock mode: change BPM without affecting the tone
• Key detection: detect the key of the songs & know which tracks sound good together
• Autogain: automatically equalizes the levels of 2 tracks + Autosync
• External mixer: control EQs & crossfader with hardware mixers
• MIDI control with Pioneer DDJ-WeGO1&2, Mixvibes U-Mix Control Pro I & II, Numark Mixtrack Pro I & II, Numark iDJ Live I & II, Hercules DJ Console RMX 2, Hercules DJ Control Instinct, Hercules DJ Control AIR, Vestax Spin2
• Multichannel audio for USB compliant multichannel soundcard
/// INTUITIVE INTERFACE
• Industry standard DJ setup: 2 decks, crossfader, Cue/Play/Sync buttons
• 3-band mixer with DJM EQ preset
• iTunes integration: sort tracks by BPM, title, artist, album or genre
• Mix SoundCloud: your SC account in Cross DJ for free. Fast loading of tracks
• Sort your music library by title, artist, album, BPM or length
• History pane: display previously mixed tracks
• Play MP3, AAC, WAV & AIFF
• Separate tabs: swipe to display different panels on each side
• Big waveform view: scratch & see the music + set cue accurately
• Portrait mode: big single player
• Change each deck's color: blue, orange, red, yellow, green, purple, pink
• Large pads & controls
/// FOLLOW MIXVIBES
YouTube: www.youtube.com/mixvibes
Twitter: https://twitter.com/mixvibes
Facebook: www.facebook.com/mixvibes
Check out Cross DJ for laptop: www.mixvibes.com/crossdjmacpc
Screenshots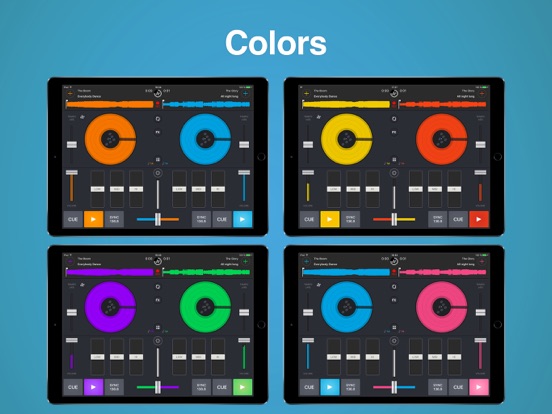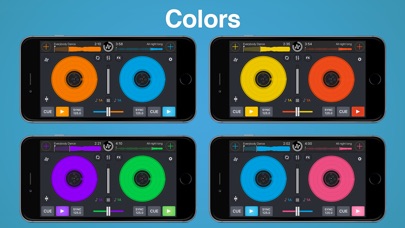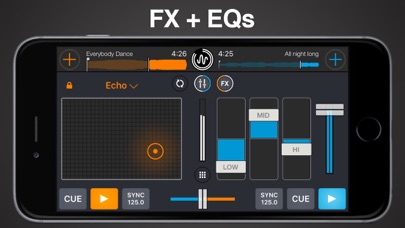 Cross DJ Pro - Mix your music app review
based on 252 reviews
promoted apps
see also